UC Irvine ended up winning this game 61-60 in OT, but I think it's safe to say that most folks could care less about the final score and were tuning in just to see two freaks of nature duking it out in the paint. Honestly outside of Manute Bol and Yao Ming, I probably couldn't name you anyone else who stands over 7'6, so that should give you an idea of the kind of territory we're in right now.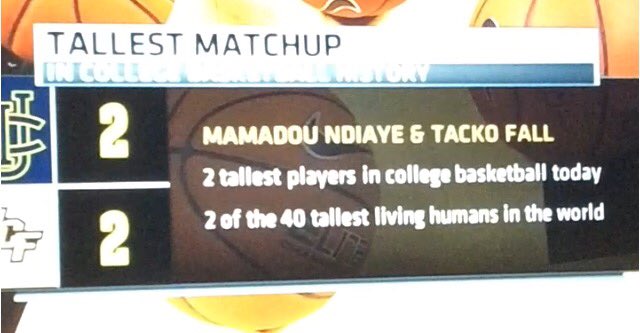 The tallest tip off in the history of college basketball also turned out to be maybe the most disappointing tip off in the history of college basketball.
Who needs ups when you can probably touch the rim flat footed?
N'Diaye had a rough go of it tonight. Doesn't matter if you're 5'6, 7'6, or 10'6, that's the definition of posterized. Mamadou got yammed on.
Tacko used all 10″ of that vertical to send the game into OT with a game tying dunk. CLUTCH TACKO!!!!
Fall got the best of N'Diaye tonight, posting 6 points, 7 boards, and 4 blocks, to N'Diaye's 5 points and 2 boards. Just be glad I was able to document this in stone (electronically) for you guys cause I can't promise you the next time you'll see two giants square off like this again.