In case you weren't able to catch yesterday's slate of games because you were busy listening to your slightly racist uncles share their thoughts on the upcoming Presidential election and the geopolitical climate of the Middle East, fear not, because your boy has got your back. Thanksgiving has always been known for its full slate of big time NFL games (If you watched even one second of football yesterday, you know that was a joke. Laugh amongst yourselves), but Thanksgiving and Black Friday featured its fair share of college roundball as well.
Tom Izzo Notches His 500th Win and Denzel Valentine Is Still Really Good At Basketball
Hall Of Fame coach? ✔︎
National player of the year candidate? ✔︎
Things are looking up if you're a fan of Sparty. Not that that isn't always really the case, but if Valentine keeps pocketing triple doubles and Izzo does his usual Izzo thing in March, I don't see any reason why this team can't be right there in the mix when it's all said and done. Gun to my head right now, I think Sparty will be your 2015-16 National Champs. There, put in ink that way when I jinx Michigan State and they don't win a title everyone can go back and laugh and call me a huge idiot. I love the Internet.
Syracuse Wins Battle 4 Atlantis Championship
It's strange because not many people had Cuse penciled in to win the Battle 4 Atlantis title, but here we are and is anyone really surprised that Cuse won the Battle 4 Atlantis title? Cuse is gonna Cuse I suppose, and this time they took out overrated UCONN and Texas A&M en route to the chamionship largely based on a blisteringly hot, 11-24 performance from downtown. Perhaps the only thing more impressive is anyone who figured out how to effectively navigate this bracket.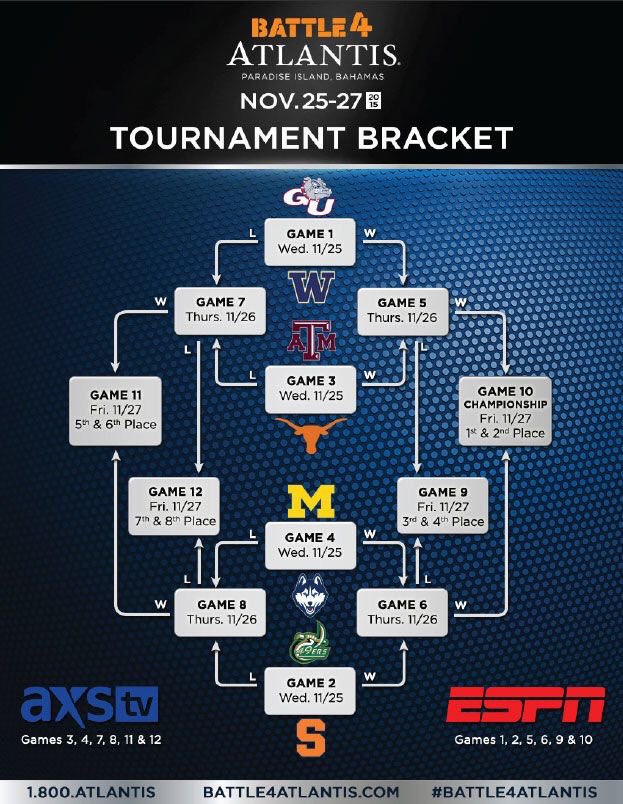 Even Magellan would get lost. Also here's next year's lineup, hot off the press.
Monmouth Takes Out Note Dame Probably Because They Have Maybe the Best Bench Mob I've Ever Seen
When your boy has been putting in work for like 8 years and you see him leave the bar with his high school crush on Black Wednesday
How do you go from being an unheralded, unrecognized, low major to darling of the NCAA tournament? Well, a lot of things need to happen, but having the best damn bench mob in all the land is certainly a start. I really hope these guys find the field of 64. It's gonna be a great ride.
Also while we're talking the Advocare Invitational, Xavier has looked very impressive, plowing through Alabama and USC en route to the championship game, while Wichita State dropped two straight to SC and Bama because Wichita State's mid-major darling schtick has run thin and they stink this year. Xavier will play the winner of Dayton and our Monmouth boys which takes place later tonight and could set up a rivalry game between two pretty good clubs from my neck of the woods.
As always, it's Thanksgiving weekend and I'm busy eating and drinking and pretending like I care about what my family members are doing with their lives and I can't watch all 351 teams play, so if you got something you think I should know about and you'd like to see on the site just tweet me @QuineTime and I'll make it happen.
Follow @BarstoolReags
Follow @Mikey_Golds
Follow the podcast @stormthecourtpc
Finally some last minute housekeeping nuggets…
Reags has our second guest lined up for this week's podcast, the esteemed @BarstoolBanks, Ravens blogger for Barstool sports and avid Maryland fan to talk Terps hoops, so now's your chance to get your questions in. Mind you this is a college hoops podcast so if you want to talk Terps or Barstool that's fine, but save the "who are the Ravens taking with the no. 1 overall pick" and "is Joe Flacco a elite quarterback" questions for later.
Black Friday is almost over, but you can still save money on steaks, shoes, sporting goods, watches, and anything else that tickles your fancy by using our promo codes found here. So far the podcast has grown by leaps and bounds (which is why we have sponsors) and the only reason that has happened is because of you, the good people listening and reading your little hearts out. So from the bottom of mine, let me say thank you on behalf of the whole STC crew. It means more than you know.
Now go out and take care of any unfinished business you may have left over from Wednesday night. Still got like 48 hours left.
Happy Thanksgiving.