Finals week is out, winter break is in, which means I'll spend my days envying kids who are still in college and their nearly month long vacation as well as some quality basketball games. Last night was evidence of that, as many of the matchups almost had a mid-February, early March feel to them as some went right down to the wire.
Michigan State – 99, Oakland – 93
Sparty's butthole was about as tight as a drum all night long, as they trailed for most of this game and it looked for all the world like Oakland was gonna pull the upset in Detroit. College hoops has been somewhat marred by, maybe I shouldn't say BAD, but let's call it ticky-tack officiating all season long and last night that epidemic reared it's ugly head once again.
This was called a charge on Oakland's Kahlil Fielder, who, in addition to being Oakland's best player also happens to be one of the top scorers in the country. That was Fielder's fifth foul and pretty much won the game for Sparty who took control in the last minute or so after that.
Sparty fans will say that's a charge all day everyday, Oakland fans (all three of them) and fans of the underdog will say that's a weak ass charge call. Personally that looked like basketball to me and the officials probably should have let them play on, but you be the judge.
Virginia – 63, Cal – 62 OT
I sort of watched this game, and by watch I really mean it was white noise in the background while I watched my Cards beat up on UMKC last night. Virginia continues to not necessarily wow, yet held on and showed they're worthy of being a top ten team beating Cal on London Perreantes 3 with ten seconds left. Next up for UVA is Oakland at home on Wednesday, which if last night was any indication, should be a good matchup seeing as it looks like Fielder and the gang have might have a little bit of magic in them.
Xavier – 78, Wake Forest – 70
X trailed early and looked like they might be on upset alert, but came storming back and survived a good shot from Wake behind plays like this from freshman Edmond Sumner
and this
Plays like that from Sumner are a small example of just how athletic Xavier is this year. Growing up in Cincinnati, I've gotten to see a lot of Xavier teams over the years and this year's club might be as athletic and skilled of a team as I've ever seen from them. In case you haven't figured it out yet (and you should have), this Xavier team is for real.
Iowa State – 81, Cincinnati – 79
The Bearcats lost again in heartbreaking fashion, as they had three good looks to tie or win the game inside of ten seconds, yet they just couldn't put the ball in the hole. If you're into high blood pressure and nail-biting finishes, then Iowa State is the team for you as three out of their last four contests have come right down to the wire. As for the Bearcats, this kid's face tells you everything you need to know about Cincinnati's home losses this season…
The Best Of the Rest
I've Never Wanted Anything More Than I Want One Of These Ron Hunter Bobbleheads For Christmas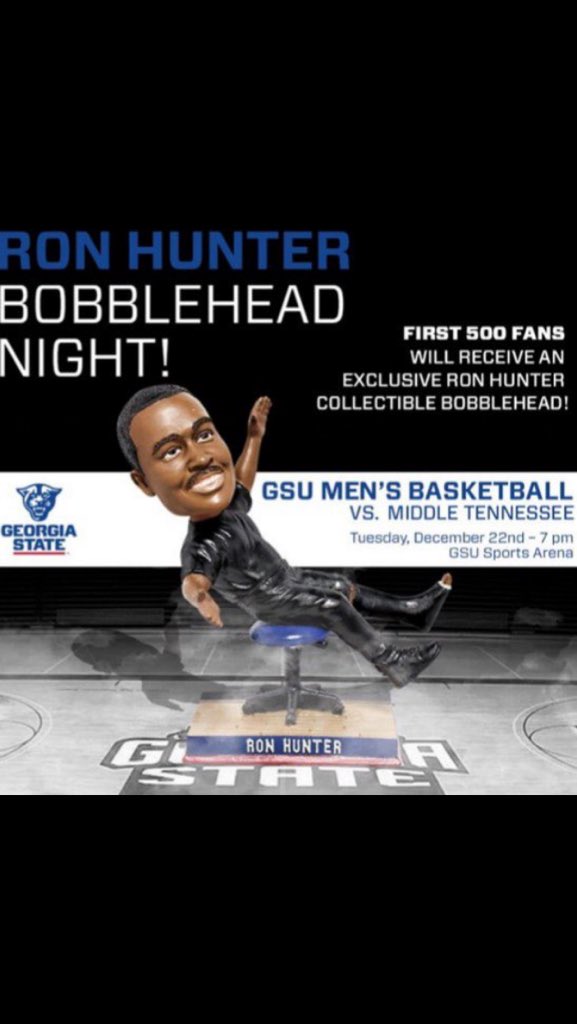 I feel like these are the kinds of things you have to do if you're a mid-major program. Like I don't go to a Dayton Dragons game to watch career minor leaguer's and 18 year old phenoms fly out to the warning track, rather I go for the free giveaways and the wacky 7th inning stretch shows. In the same light, I'm not sure how many folks are flocking to the arena to just watch GSU and Middle Tennessee slug it out. The UK's and the Cuse's and the Louisville's of the world will draw 20,000 a night just on name alone, but give me a Ron Hunter falling off his chair bobblehead and I'll camp out for days just to score a ticket. Need this thing more than I've ever needed anything in my entire life.
Still maybe the best spontaneous coach/win eruption I've ever seen.
Who Wore It Better? Biggie Or Seth Greenberg?
One Armed Gators Guard Zach Hodskins Drive To the Hole Was An Awesome Moment In College Basketball
Not to get too sappy on you all, but next time you're feeling like you can't do something, think about Zach going strong to the tin and drawing an And-1 before you bitch and moan.
That kid who got worked needs to retire though. Can't be the guy who gets schooled by Captain Hook and show up in the gym the next day and expect people to take you seriously, right? Is that mean to say?
Did I miss anything (yes)? Got something you think we should know about? Make sure you tweet me @QuineTime and I'll put it on the site. Or not. Deal with it.
Follow @BarstoolReags
Follow @Mikey_Golds
Follow the podcast @stormthecourtpc