Xavier Def. Providence 75 – 68, Notches First Top Ten Road Win In Twenty Years
Billy R's best "ONIONS" call all season, imo. 
I'm not sure Xavier is really this for real or if Providence's offense is really this bad or both, but whichever way you slice it that was an impressive win for the Musketeers last night- Friars stinky offense be damned. Outside of Kris Dunn and Ben Bentil, Providence struggles to put the ball in the hole and shooting 20% from three doesn't bode well when you're trying to beat a top ten team as athletic and as deep as the Musketeers are.
Also that was Xavier's first top ten win on the road in two decades. That's right, TWENTY YEARS. I almost fell out of my chair when I heard that on the radio this morning. Xavier isn't exactly what you'd consider a blueblood, but they have a damn good club year in and year out and I'd just assume they would have at least gotten lucky once or twice since the 90's. You know, the old "blind squirrel finds a nut" philosophy.
Wake Forest Pisses Away the Game, Loses After Being Up 7 With 20 Seconds Remaining
There's no time like the present, so maybe I'm a little caught up in all the hoopla when I say this, but on paper that's one of the worst losses I've ever seen in a basketball game. Up 7 with 20 seconds left? That's north of a 99% win percentage to be exact. That's right about the time you finish the last little bit of your beer and head for the concourse. One can't really help but draw comparisons to Reggie Miller crucifying the Knicks in '95. Of course everyone will probably forget all about Wake's implosion by March because it happened on a Tuesday night in January and not in the NBA postseason at Madison Square Garden, but outside of that, everything else had the makings of a historic loss by the Deacons.
Shaq Fu Claims He Was "Paid Very Well" In His Time at LSU, Encourages His Son to Do the Same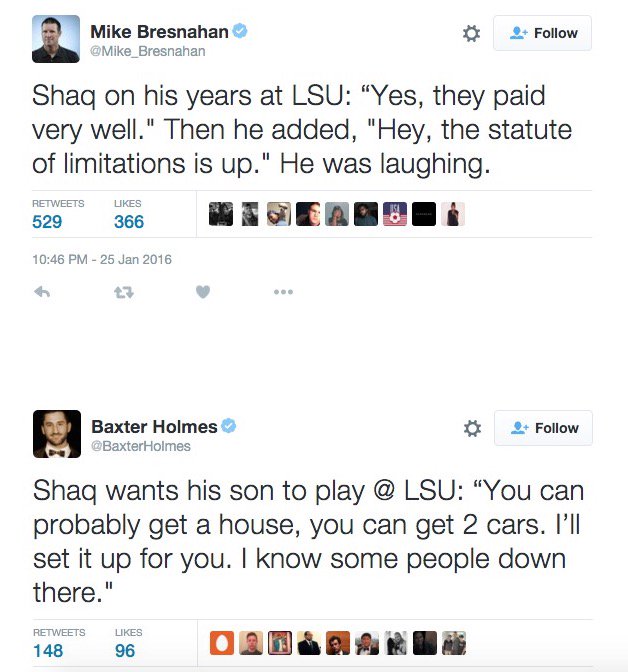 You know what? I'm with Shaq all the way on this one. There should absolutely be a statute of limitations. More than 20 years and about 200 lbs. have passed since Shaq first step foot in Baton Rouge and most of the old white dudes that were paying Kazaam under the table are either dead or retired. Besides, you'd be a fool to risk it all paying for Shaq's son…
I guarantee you being the Big Aristotle's son pays far more than any booster or slimeball agent ever could even during their best years.
Ben Simmons when he heard Shaq talking pay for play
ICYMI: Episode 14 With Oklahoma's James Fraschilla
Did I miss anything (yes)? Got something you think we should know about? Make sure you tweet me @QuineTime and I'll put it on the site. Or not. Deal with it.
Follow @BarstoolReags
Follow @Mikey_Golds
Follow the podcast @stormthecourtpc